AXS Guard Cloud
Important
The AXS Guard Cloud requires the use of a web browser in order to interact with its various web-based dashboards, which display real-time data as well as insightful charts and reports.
Browser extensions can impact browser performance and user experience, as they have the ability to run extra code on every page you open and can cause pages to hang or even become unresponsive.
If you encounter a problem interacting with a dashboard or if it becomes invisible, ensure that all your browser plugins are disabled or add a security exception for the AXS Guard Cloud.
Dashboards
The AXS Guard Cloud provides multiple dashboards allowing authorized administrators and MSSPs to remotely and securely monitor AXS Guard deployments, push configuration settings to large-scale installations, view license and operational status information, register new appliances, manage customer contracts, troubleshoot systems and consult threat intelligence data from multiple data sources.

Sign in with Google or Microsoft
Threat Intelligence
Threat intelligence is data which is collected from various sources and analyzed to quickly identify targets and attack behaviors in a customer's network.
The DNS Security, Endpoint Central and Monitoring dashboards enable authorized administrators and MSSPs to make faster and more informed security decisions.
Affected targets can be quickly isolated for additional investigation or troubleshooting and system administrators or MSSPs can adapt their security strategy more efficiently to counter threat actors.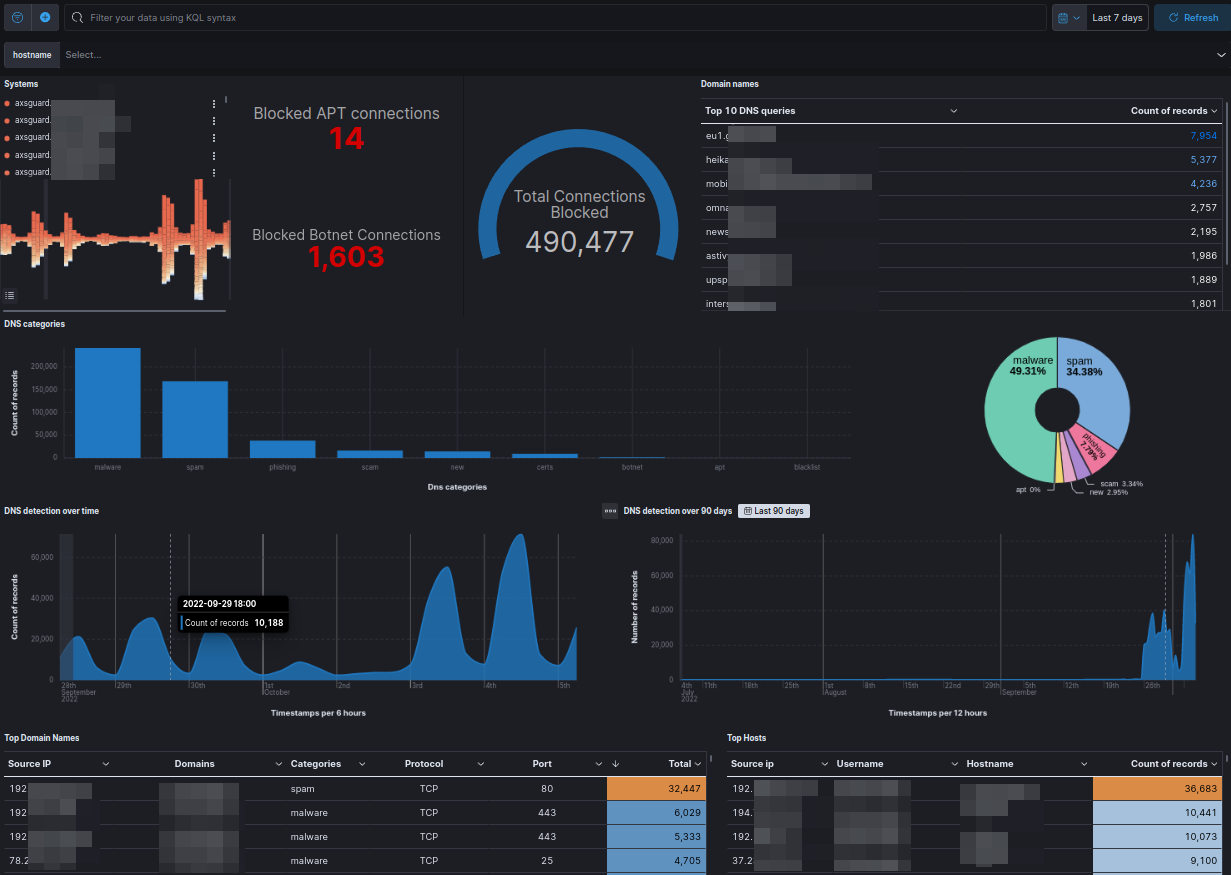 Appliance Monitoring
This dashboard allows you to review and analyze AXS Guard appliances for availability, operations, performance, security incidents and other related processes.
It is only accessible to authorized administrators and MSSPs to ensure that AXS Guard appliances are performing as expected and to mitigate problems as they become apparent.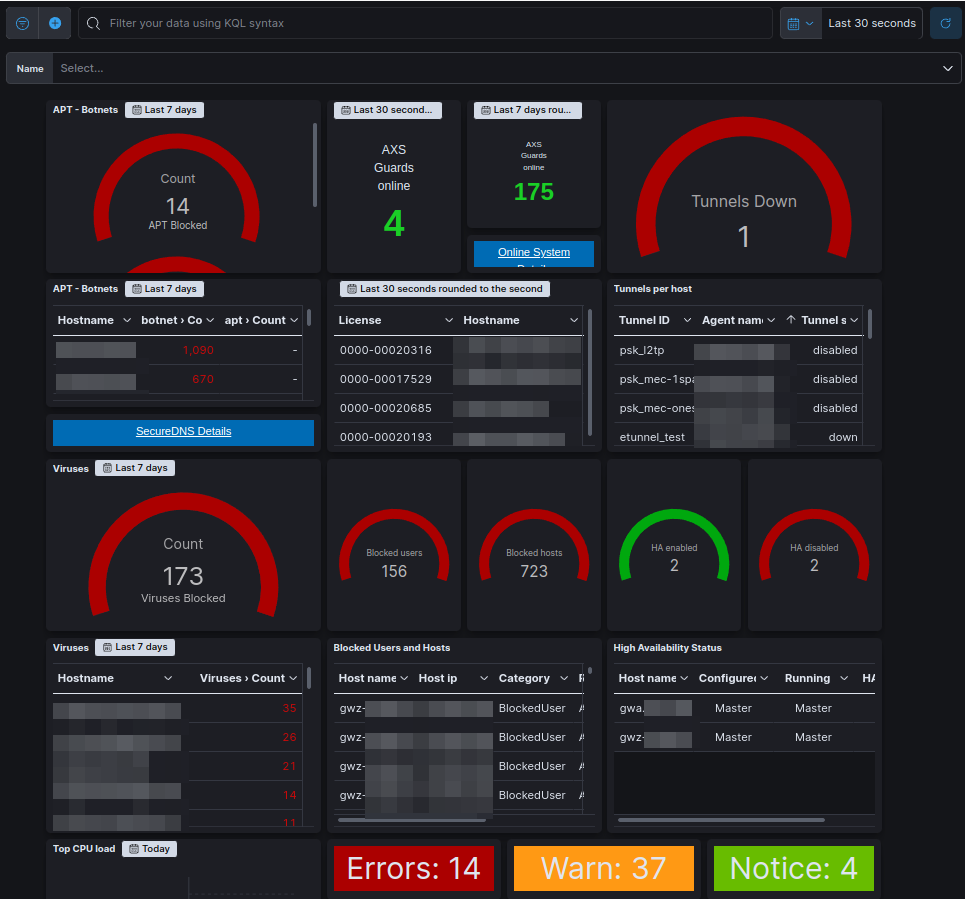 Remote Configuration & Troubleshooting
The AXS Guard Central dashboard provides a clear overview of all deployed systems, their license number, contract IDs, current operational status and health.
Via this dashboard, authorized system administrators and MSSPs can also securely log in to any AXS Guard appliance under their management.
The AXS Guard central dashboard also simplifies routine system maintenance tasks, such as pushing new firewall rules to large-scale installations and allows MSSPs or administrators to remotely identify and troubleshoot issues.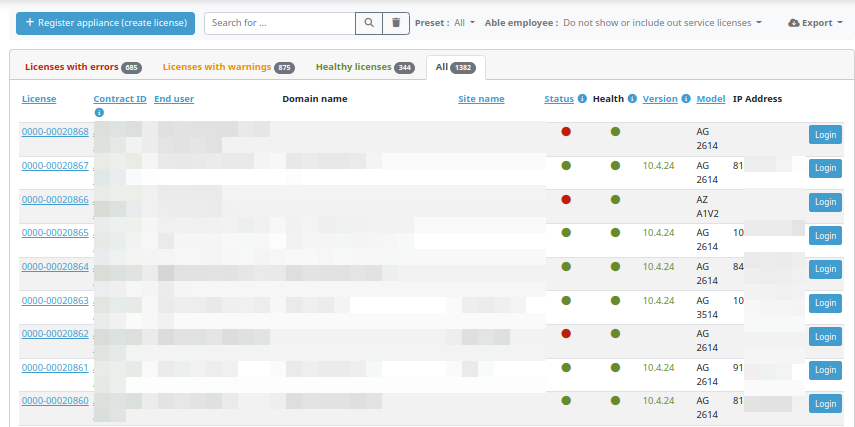 Contract Records
Via the Contracts section, authorized users can display a list of all company connections, access agreements, activated system features, license information and download contract certificates as well as license files.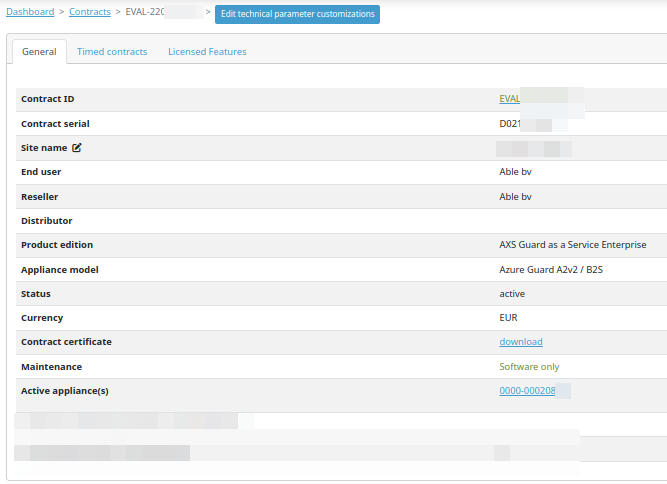 Access Management
Via the Cloud Access Management section, authorized administrators and MSSPs can track and manage their AXS Guard cloud users, provide and revoke access to (parts of) the system.